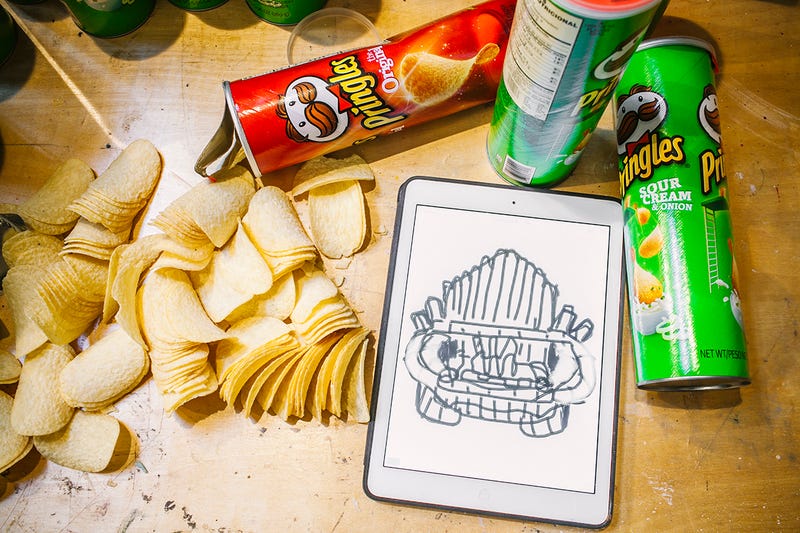 It's not every day that one finds oneself in the presence of both an apocalyptic piano and a working pipe organ made entirely out of Pringles® potato crisps cans. But that's exactly what you'll find in the Brooklyn studio where mixed-media artist collective, Fall On Your Sword (FOYS), took on the challenge of using the cans to create works of art with hot glue guns blazing.
Will Bates (cofounder of Fall On Your Sword), Sarah Bereza (an artist and the self-proclaimed "catchall for anything visual" at FOYS), and Ryan Price (the resident audio post mixer) discussed the creative process behind their final masterpiece: a massive pipe organ that will be displayed and played at Gawker's fourth annual Silent Disco in New York City. Because the best part is, it actually works. Guests — maybe even you — will be able to play duets and jam out on this instrumental work of art during the event.
A Working Work of Art
Apparently, a functional pipe organ is the obvious artistic choice when deciding what to make out of the cans. "It happened in about a minute I think. One of us just said 'we should make an organ!'" As Sarah put it, "we were sort of like, duh. The shapes just sort of make sense." Most artists find motivation in the work of their predecessors; so it's not surprising that some of the inspiration for this idea was taken from the organ in The Goonies. It also elicits a (slightly more colorful) Iron Throne vibe. Thankfully, Joffrey will not be attending this year's Silent Disco.