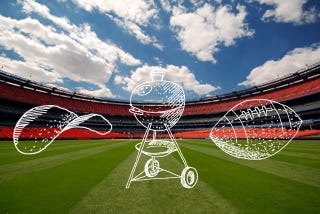 The path to achieving peak tailgating form isn't so different from how football players get ready for the season — namely, hours and hours of scientifically optimized training sessions. Eventually you'll need to ditch the practice pads and diagram your tailgating game plan. Lucky for you, I've rounded up some pretty inspiring gear and accessories.
Whether you're prepping for a home game or following your team on the road, it's important to have snacks, like Pringles Tortillas™, at the ready to fuel your creativity. No one ever made tailgate — or football — history on an empty stomach.
For the ultimate tailgating party, you don't want to settle for second-string seating options like saggy lawn chairs and rickety stools. You'll want to be sitting on something sturdy enough to hold your weight as it increases due to tailgate snack ingestion.
Watching the game from truck bed couches? That's so boring. The real action is on these souped-up coolers that can hit top speeds of up to 13 miles per hour, making them a solid backfield option for certain teams. The scouting report on these little guys say they've got great intangibles, a solid motor and an underrated ability to turn the corner (loud video warning).
There's some debate over who invented the mobile hot tub, but there's nothing stopping enterprising fans from building their own for the ultimate in tailgating luxury (flippers optional). And for extra style points, try driving to the game while inside your hot tub.
Everyone knows that bigger is better when it comes to football. The same goes for finding the right tailgating TV.