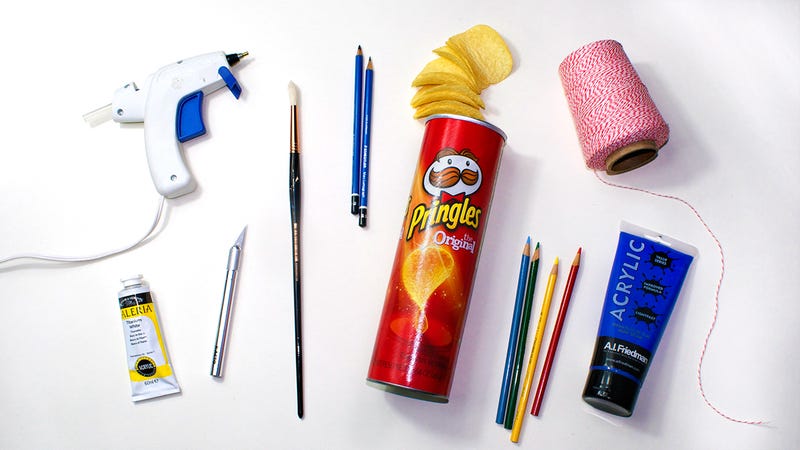 What would you make if you had unlimited access to Pringles® potato crisps and cans? A working pedicab? A life-sized replica of a certain Canadian mayor? This isn't a test: we really want to know. And if you tell us, there's a chance you can win a trip to NYC to attend Gawker Media's fourth-annual Silent Disco. And your idea could be featured on Gawker and Jezebel.
For some inspiration, look at what the multi-media art collective Fall On Your Sword made using the same materials and parameters: a functioning pipe organ and shimmering crisp chandelier. Your idea doesn't have to be a finished product, just a clearly articulated idea: a photo, a sketch, a written account of what you'd do if you had the means. If your idea is chosen, you will win a trip for you and a friend to party at Gawker Media's Silent Disco in NYC, and your brilliant idea will be featured in a post on Gawker and Jezebel.
The contest ends April 20, so check out the contest rules and get to work. Who knows, maybe your artistic calling is to create a teen idol mugshot mural with Pringles® cans. Bestow your delicious vision upon the world.
To enter the Pringles as Art contest, submit a photo, sketch, other rendering, or written description of your creative Pringles can or crisps creations to pringles@gawker.com with "Pringles as Art Contest" as the subject line. You'll have a chance to win an all-expense-paid trip with a friend to the Silent Disco, presented by Pringles. Contest rules apply. Submissions will be reviewed by Studio@Gawker, and a winner will be selected based on their creativity, innovation, and sense of fun.
Head hereto learn more about Pringles, your raw materials (and favorite snack). Because #YouDontJustEatEm.
Lily Butler is an Associate Content Producer for Studio@Gawker.
This post is a sponsored collaboration between Pringles and Studio@Gawker.