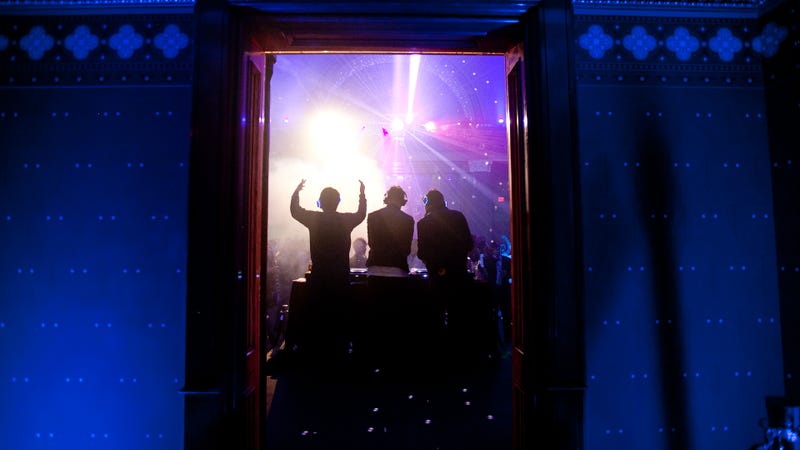 Last Thursday, Gawker Media threw its 4th-annual Silent Disco under the radiant, jeweled dome of Williamsburg's sprawling bank-turned-event space, Weylin B. Seymours. Revelers helped break in this gorgeous, newly renovated event space by striking a pose (or four) in the Bosco photo booth, snacking on Pringles® potato crisps inspired hors d'oeuvres (thanks to the geniuses at Bite), and dancing like it wasn't a school night to the sounds of Cash Cash and JonJon Battles.
Psychedelic strobe lights, a shimmering Pringles crisps chandelier and melodious Pringles cans pipe organ, charming off-duty actors behind the bar, drag queens sporting towering works of hair art, and a sea of beautiful people donning headphones and dancing like they had a fifty percent chance of making it to work the next morning. That was Heist. Check out some pics from the night below. (Warning: strong feelings of FOMO may occur.)
Jon Jon Battles opened for CashCash and got everyone dancing early in the night. Photo by Noah Fowler.
The view from the DJ booth where Cash Cash reigned supreme. Photo by Noah Fowler.
The creative masterminds of Fall On Your Sword — the multimedia artist collective who created the Pringles crisps chandelier and working Pringles can pipe organ that kept musically-inclined guests entertained all night. Photo by Noah Fowler.
GIF-ing out in the Bosco photo booth. Turns out everyone looks better with a Mr. P mustache.
Hands up, this is a Heist (get it?). Photo by Noah Fowler.
The Wizard of Oz would have felt right at home at the glowing Weylin B. Seymour's.
Acid Betty and that show-stopping hair. Simplicity is overrated. Photo by Noah Fowler.
Jewelry box, kaleidoscope, or the mesmerizing dome high above the dance floor at Weylin B. Seymour's? Photo by Noah Fowler.
Thursday night fever with the one and only Victor Jeffreys. Sadly, a sequined unitard was not acquired in time for the event. Photo by Noah Fowler.
Guests making sweet sweet music on the Pringles pipe organ, and proving that #YouDontJustEatEm. Photo by Noah Fowler.
Cash Cash held court and kept everyone dancing till the lights came on. Photo by Noah Fowler.
Props make everything more fun.
Joy. Photo by Victor Jeffreys.
The abundance of Pringles® Tortilla potato crisp dipping stations that kept guests snacking all night long. Double dipping was punishable by dance circle. Photo by Noah Fowler.
All of the lights. Photo by Noah Fowler.
Bliss. Photo by Noah Fowler.
The culinary wizards at Bite creating delicious Pringles® potato crisp inspired appetizers. Mini Pringles burgers + Pringles-encrusted fried chicken with watermelon + Pringles-infused pierogies = snacking heaven. Photo by Noah Fowler.
Because it wouldn't be a disco without a glowing disco ball. Photo by Noah Fowler.
Jade Young, who won the Pringles as Art Contest with his idea for a Pringles inspired Swan Lake ballet, said it was "a night that I won't forget. Everything was perfect." Photo by Noah Fowler.
Welcome to the neighborhood, Weylin B. Seymour's. Head here to learn more about the Pringles crisps that inspired Heist: A Silent Disco. Because, clearly, #YouDontJustEatEm.
Lily Butler is an Associate Content Producer for Studio@Gawker.
[Photos by Noah Fowler and Victor Jeffreys.]
This post is a sponsored collaboration between Pringles and Studio@Gawker.